Interview with Veronika (Neutral)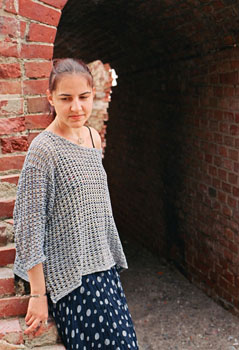 I think that you remain the most mysterious character for many admirers of the group. Tell us a little about yourself, how did your acquaintance with Neutral begin?
As for my participation in Neutral and singing basically, it is a great riddle not only for the people who are closely acquainted with me, but also for myself. Thanks to my curiosity I got on the web-site of the group, read the section of lyrics there, which I liked very much. I've known practically nothing about the existence of a "black stage" before and about its Russian representatives so much the more. Further the things became much more interesting: By chance I've got acquainted with ASH in autumn 2000, began my vocal studies in September 2001, having felt an inexplicable need in it, and in 2 months I was invited to the group for a listening. It is necessary to notice, that ASH has already been for almost a year to an overseas mission by that moment and this fact has not prevented him to offer me to try myself as a vocalist of Neutral. At present I can tell, that Neutral has absolutely changed my life.
You have visited Koenigsberg for the first time and this was your first performance at Prutena. What are your brightest impressions about it …
I was very excited before this trip and waited impatiently for the meeting with Koenigsberg and its inhabitants. Everybody without exception told me that this town is unusual and visiting it does not pass without leaving a trace for anybody. All my expectations were justified, at last I have met everyone about whom the Muscovites told me so often - the Nazarovs, Niktorius, Igoshin, Johnny and Anna, Vichko and Sasha in their, so to say, natural environment. The town presented us the most part of time with perfect weather. I love wind very much, coolness and space, the things we have not enough in Moscow. It's easy to breath here, one can feel freedom and peace inherent to all hansa cities. The fort... Trees stretching their green branches high into the air, ground and old constructions, then fire, candles, blackened sky full of stars, and music flying upwards. Yes, it reminded of a solemn performance. And then was Baltijsk, and deserted singing hangars on Baltic spit, and pines on sand, and amber scattered on the coast as if to please by its warmth those who finds it; the church of Luise where the first Walpurgis night was held; the Zoo with sad but fat animals and many other things … Certainly the strongest impressions remained after visiting the sanctuary of Romowe which welcomed us majesticly but warmly and quiet. There was a desire to stay there, to sit on the ground and to listen to silence consisting of natural sounds - of a rustle of wind, singing of birds, and murmur of a brook, to imagine the time when the sacred evergreen oak stood on this hill …
Your German is rather strange: it is unusually melodious and it seems to be not German at all. Where comes such a pronunciation from?
Unfortunately majority of the people are convinced that German is a completely tuneless language. Alas they judge only on "barking" Berlin dialect (example: Rammstein). As the fate willed my life was connected to this language from the very birth. German language is diverse, I speak modern literary ("hochdeutsch") German, practically without accent, but sometimes I can add some "features" from Viennese and Tirolean dialects. The pronunciation is also influenced by the mood of song. I doubt that somebody would rap out the consonants and abruptly pronounce "r" in a romantic ballad. For example you can listen to Orplid or Hagalaz Runedance "Das Fest der Wintersonne". So my German is not strange at all, it's normal.
Are the texts in German yours or belong to other authors?
What subjects are mentioned in these lyrics?
The lyrics of two German songs as also of two English are mine. Music of "In Erwartung" ("In expectation") has some traces of folk sounding, therefore I conceived the text for the song as a very simple one sang in a moving manner. The girl is singing about her died beloved, who should come as a light ghost to her this night and take her to eternity but it will happen only after the sun goes to sleep. Other songs are flows of emotions painful (" Pain of Senses "), dark (" Dead Little Madmaid ") and light (" Triumph des Lebens ").
The group has played some new compositions at Prutena including a cover version of a famous composition of Ordo Equitum Solis "The Blood, Tomorrow". Why have you chosen this song?
All of us love this song, for me it was one of the first songs in dark folk style. Once I tried to sing it in the Leithana's manner. I liked this experiment. Then it occurred to us to try to play this song in the manner of Neutral.
I think many people would like to hear you singing in Russian. Will the admirers of Neutral have such opportunity?
Most likely, yes, at least, there is a very good material, both lyrical, and musical. Nevertheless it's difficult to work with Russian language, because it is hardly combined with the music of Neutral, and ASH has already noticed it. Especially it concerns the ballads, it is much easier to use English or German languages there.
Neutral performed already several times without ASH, the leader of the group, and not all listeners estimate it as the negative thing. What do you think of it?
Firstly, " not all " is not all. Tastes differ. Secondly, the phrase "without the leader ASH" is incorrect, as we are always in contact with him, he takes an active part in activity of the group, even being so far from us.
Tell us a little about Noel, your new violinist who has taken place of such a legendary person as Voronovsky…
First of all Noel is a kind, sympathetic and trustworthy girl. She liked everything Neutral does at once . She is very quick in sensing new ideas and offers her own ones, she improvises easy and spontaneous. Wonderful violinist with delicate soul. This year she is going to take an examination at the Moscow Conservatory of Tchaikovsky, and we hope that she will pass it successfully. I think her abilities will allow her to shine not less brightly than Voronovsky does.
Is the present staff of the group ideal to your opinion?
Yes it is. All participants understand each other practically from a half-word, we look "in one direction". Our rehearsals are not simply mechanical playing of the repertoire but it's a meeting of people who enjoy being together. Such relations stimulate creativity in the best way.
And in conclusion tell us about your plans. When at last will be your album released, when will your next concert take place?
At the moment we are expecting the beginning of negotiations with the Cynfeirdd label concerning conditions of the release of our long-awaited album "… Of Shadow and Its Dream" which mastering was completed in April this year. Besides we hope to release an album with the concert of Prutena 2003. There are also lots of new compositions. As for concerts, in June we are beginning to prepare for a concert in an old Swiss village, Boudry. This performance, in which ASH will join us, is planned on the end of July.
Using this occasion, I on behalf of all participants of Neutral, thank you and Niktorius, as the main organizers of Prutena, for a perfect night at fort Stein, for the trip to Romowe and Balga; sound engineer for an excellent sound, owners of the fort for their hospitality; everyone who was at the fort in the night of 2nd of May for pleasure of a contact with them; everyone who lodged us, gave us tea, who pitied us, who did not sleep in the night, gave us money, waited for us, met and saw off, photographed, showed sightseeing and so on, for their existence. I wish you and all participants of Seidr good luck in all undertakings!
© 2003 interviews Wolfsblood